My niece and one of my nephew's had a school bake sale and Jacob asked me to make some of my "delectable goodies" for them. I knew I wanted to do cupcakes but wanted them a little different. Hence baking them in ice cream cones. I didn't know that ice cream cones even came as small as they do. I was able to make mini cones as well as regular cones. They were so darn cute and so delicious.
Now I did have a problem because I tend to over-fill my cones and quite a few, yes quite a few, ended up overflowing. They turned out ok though because it just looked like the ice cream was melting. These would be perfect for a kids party.

Hershey's Perfectly Chocolate Cupcakes (
Recipe adapted from Hershey's
)
Ingredients:
2 cups sugar
1-3/4 cups all-purpose flour
3/4 cup HERSHEY'S Cocoa
1-1/2 teaspoons baking powder
1-1/2 teaspoons baking soda
1 teaspoon salt
2 eggs
1 cup 2% milk
1/2 cup Canola oil
2 teaspoons vanilla extract
1 cup boiling water
Instructions:
Heat oven to 350°F. Stir together sugar, flour, cocoa, baking powder, baking soda and salt in large bowl. Add eggs, milk, oil and vanilla; beat on medium speed of mixer 2 minutes. Stir in boiling water (batter will be thin). Pour batter into ice cream cones and place cones in muffin tins.
Bake 22-25 minutes or until wooden pick inserted in center comes out clean.
(too full)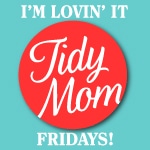 Linked up at
Fun with Food Friday
and
Sweets This Week
.