Let me start this by saying I have never had Tres Leches cake before. But with Cinco de Mayo upon us I wanted to give it a try.
The recipe is from Alton Brown and got rave reviews. Although some reviews warned that the cake might come out too mushy so turning these into cupcakes I knew I had to be careful. I went the opposite and put too little of the glaze on and they were almost too dry. But I see the potential in them and may make it again in the full cake version. My aunt made the BEST piña colada cake for Easter that was so moist so I'll have to ask her what the secret is and try them again.
My niece and mom loved them so I'll still give them a thumbs up. Definitely put the sprinkle of cinnamon on top as it adds a little kick to them.
Tres Leches Cupcakes (Recipe adapted from
Alton Brown
)
Ingredients:
For the cupcakes:
Vegetable oil
6 3/4 ounces cake flour, plus extra for pan
1 teaspoon baking powder
1/2 teaspoon kosher salt
4 ounces unsalted butter, room temperature
8 ounces sugar
5 whole eggs
1 1/2 teaspoons vanilla extract
For the glaze:
1 (12-ounce) can evaporated milk
1 (14-ounce) can sweetened condensed milk
1 cup fat-free half-and-half
For the topping:
Lite Cool Whip
Ground cinnamon
Instructions:
For the cake:
Preheat the oven to 350 degrees F. Place cupcake wrappers in a muffin tin.
Whisk together the cake flour, baking powder and salt in a medium mixing bowl and set aside.
Place the butter into the bowl of a stand mixer. Using the paddle attachment, beat on medium speed until fluffy, approximately 1 minute. Decrease the speed to low and with the mixer still running, gradually add the sugar over 1 minute. Stop to scrape down the sides of the bowl, if necessary. Add the eggs, 1 at a time, and mix to thoroughly combine. Add the vanilla extract and mix to combine. Add the flour mixture to the batter in 3 batches and mix just until combined. Using a cookie dough scoop, add batter to muffin tins until 3/4 full. Bake on the middle rack of the oven for 15-17 minutes or until lightly golden.
Remove the cupcakes to a cooling rack and allow to cool for 30 minutes. Poke the top of the cupcake all over with a skewer or fork. Allow to cool completely and then prepare the glaze.
For the glaze:
Whisk together the evaporated milk, sweetened condensed milk and the half-and-half in a 1-quart measuring cup. Once combined, pour the glaze over the cupcakes. Refrigerate overnight.
Topping:
Place a dollop of Cool Whip on the cupcakes and sprinkle some cinnamon on top.
Linked up at: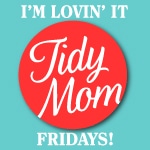 Sweets for a Saturday
Sweet Tooth Friday
Eat at Home Cooks